Kali Linux has mostly used Linux distro for security research and forensic research. And it is used for penetration testing as well. It is a Debian based operating system. In this article we are gonna learn how to install Kali Linux step by step. We have many options to install the Kali Linux. We can install the Kali Linux in VMware, VirtualBox, WSL2 etc. different platform. But here we can learn how to install Kali Linux in a PC or Laptop. So let's start how to install Kali Linux:
Download the Kali Linux
So first of we have to download the latest version of Kali Linux from the official website. Choose your architecture according to your hardware 64 bit or 32 bit. Download the image using torrent or you can download directly in your browser.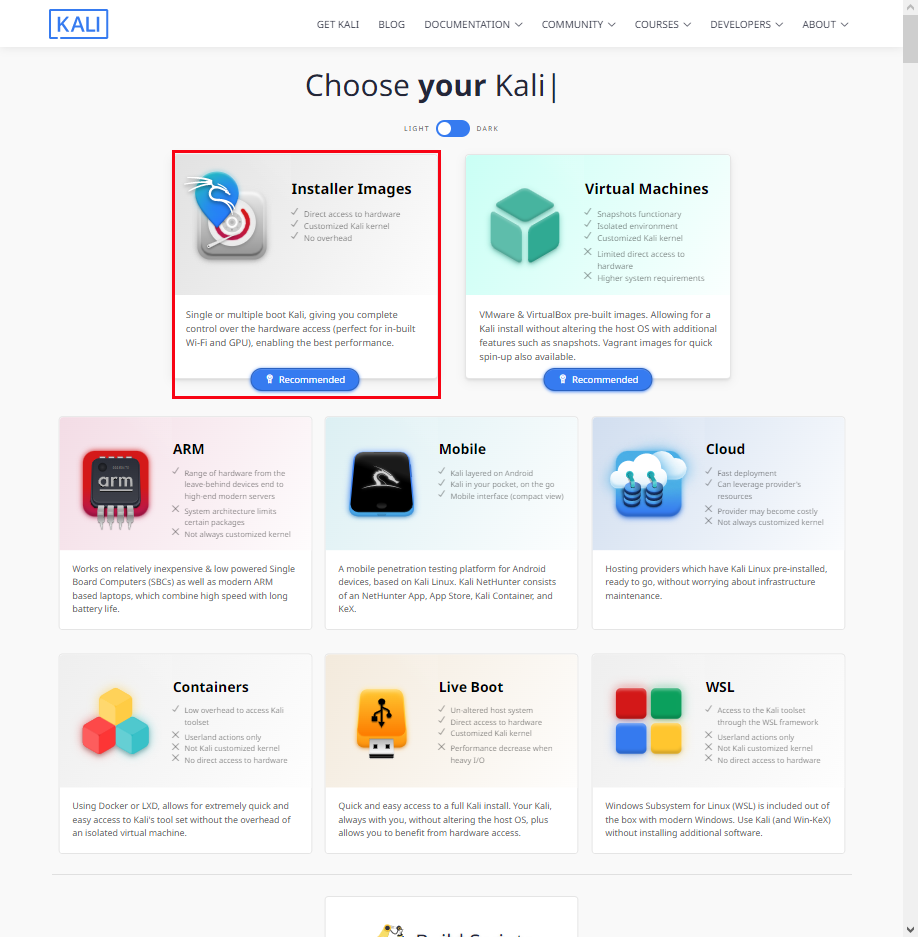 Make Bootable USB Drive
After downloading the Kali Linux ISO image you have to make bootable USB flash drive. There is two ways to make bootable USB drive. If you are using Linux distro.
Using default Terminal (CLI)
Third Party Software (GUI)
Install Kali Linux
Select your installation method
For the installation you can choose "Graphical install" or "Install", Here I will choose "Graphical install".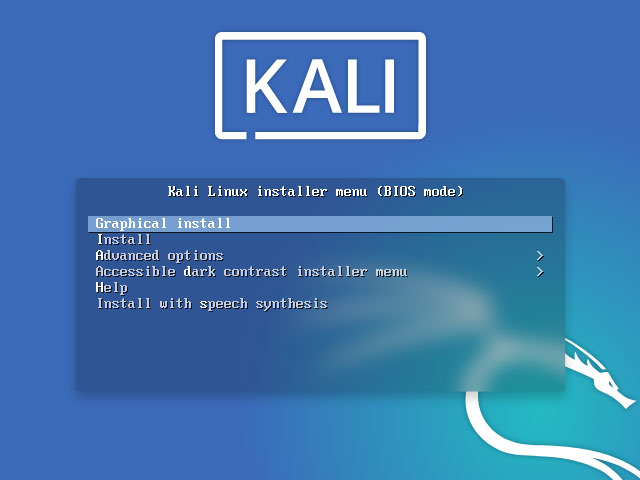 Choose the language for the installation process
Here you can choose your preferred language. I will choose the English you can choose yours.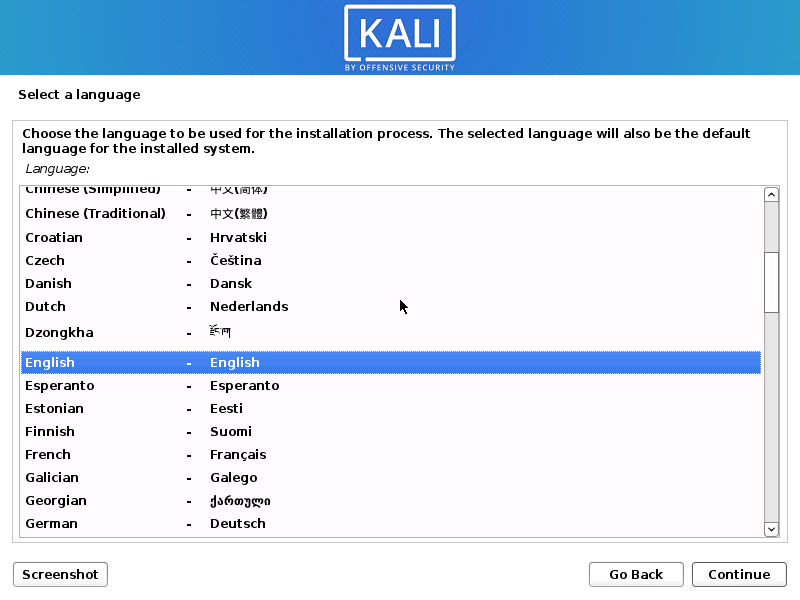 Select your location
Next option is location or time zone, choose your location and hit "Continue"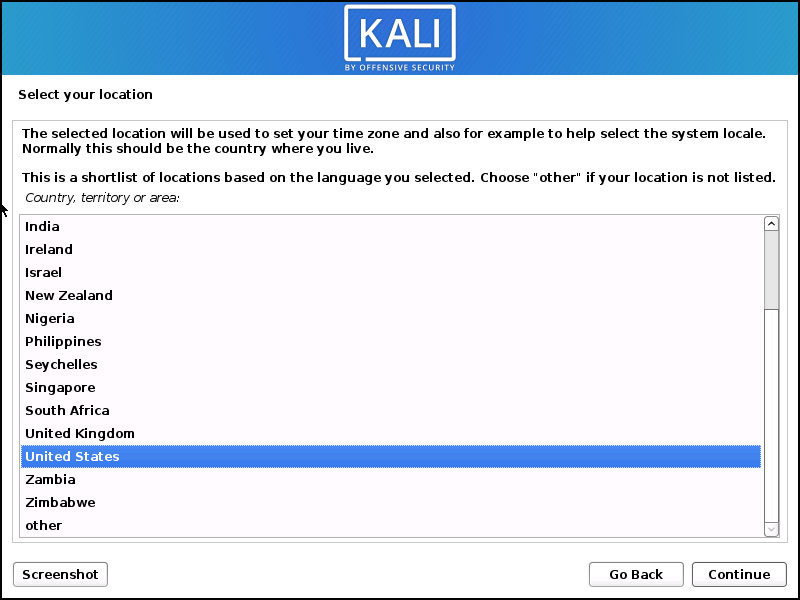 Configure the keyboard layout
Now according to your region or preference choose your keyboard layout.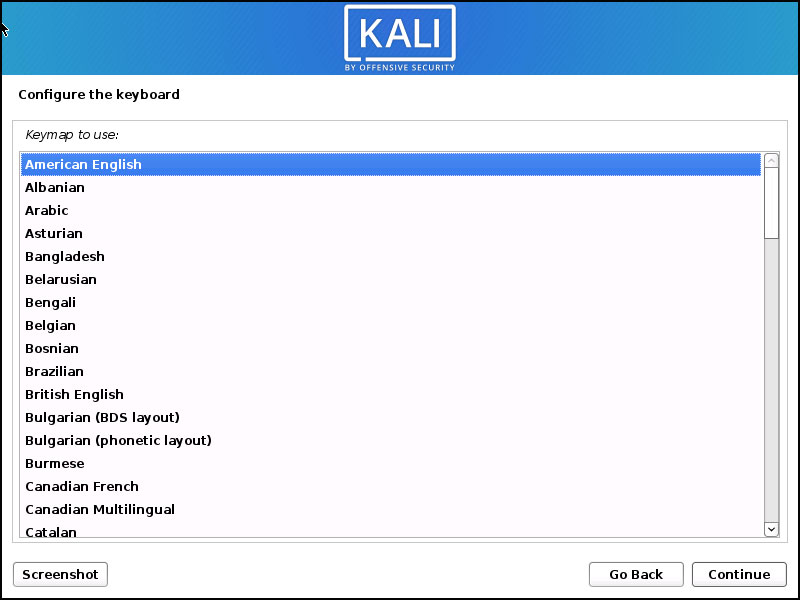 Choose a hostname for this system
Choose your hostname which is a single name and it is the identification of your system in the network. Then click on the "Continue" option.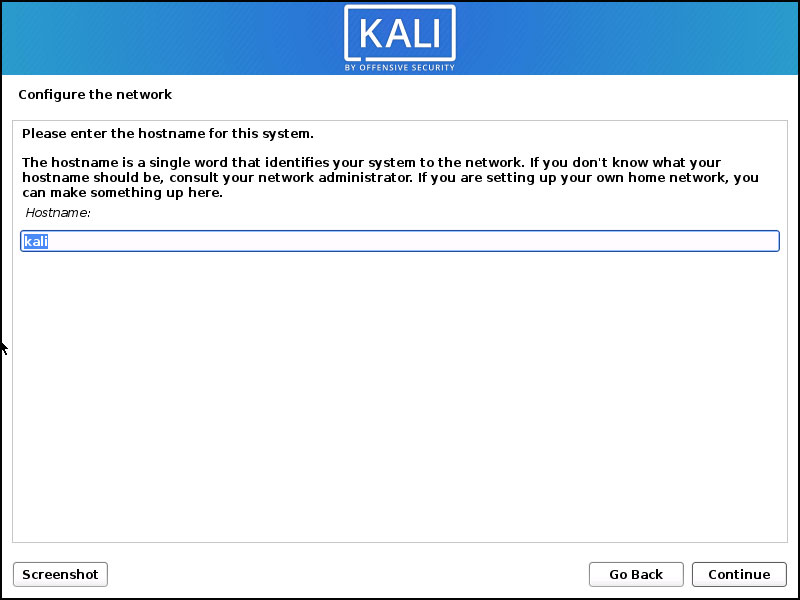 Choose your domain name
If you want to use your own domain you can enter here but I will leave this empty and click on "Next"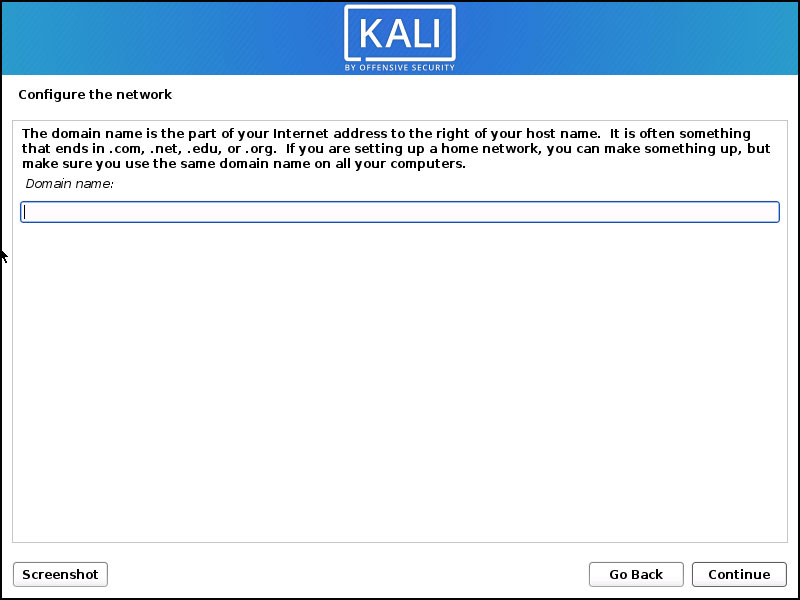 Setup new user
Choose your Computer name as you can know now the root is no longer so you have to create a new user account here, and click on "Continue"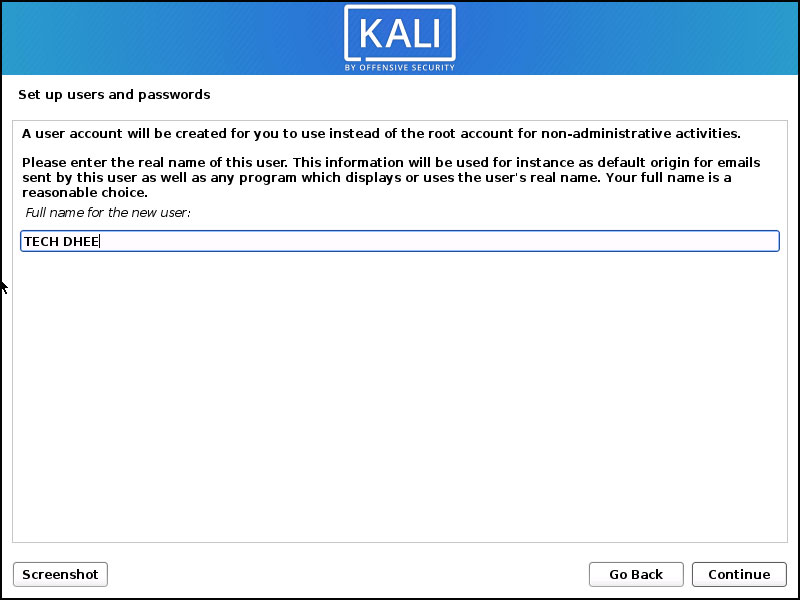 Username for the new account
Here you have to set the username for you new user.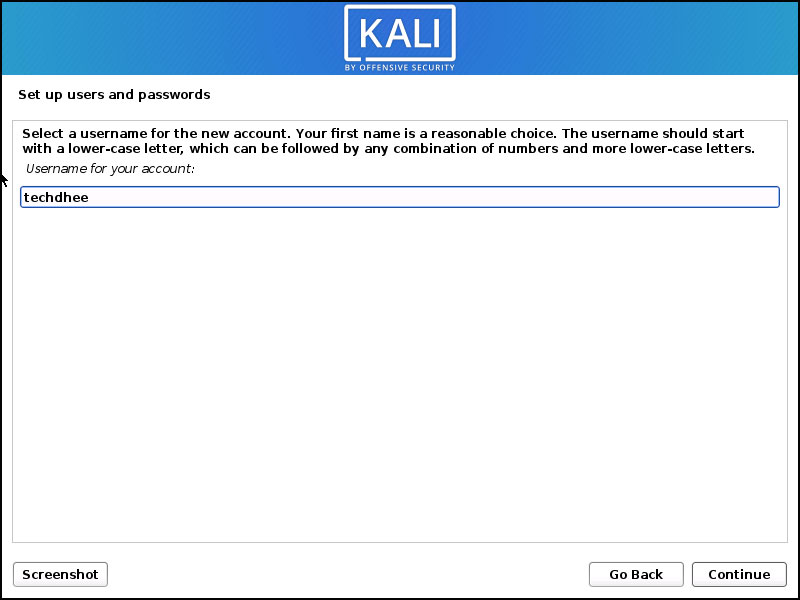 Set new password for new user
Set up a strong password for the new user and click on "Continue"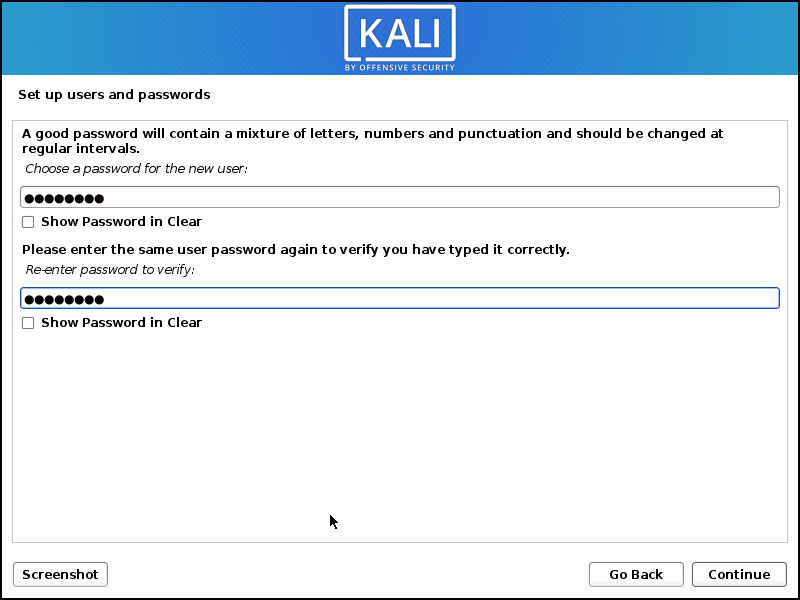 Partition disk
In partition section you can create new partition by using two method
Guided Method
Manual Method
Guided Method
If you are using Guided Method to install the Kali Linux, it is using our entire hard disk and remove you whole hard disk. And make the partition by itself.
Manual Method
In Manual Method you have full control to create new partitions. You can create any partition and give the size according to your need.
Overview of Guided partitioning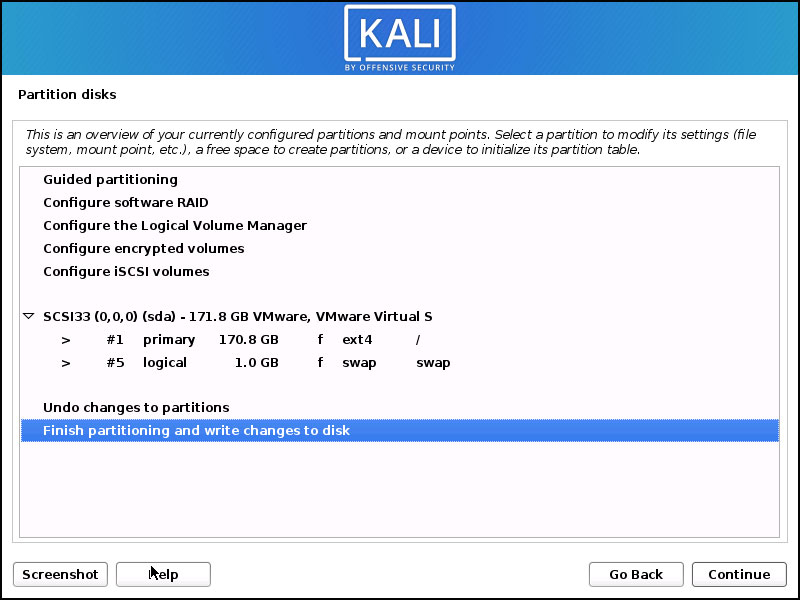 Write the changes to disk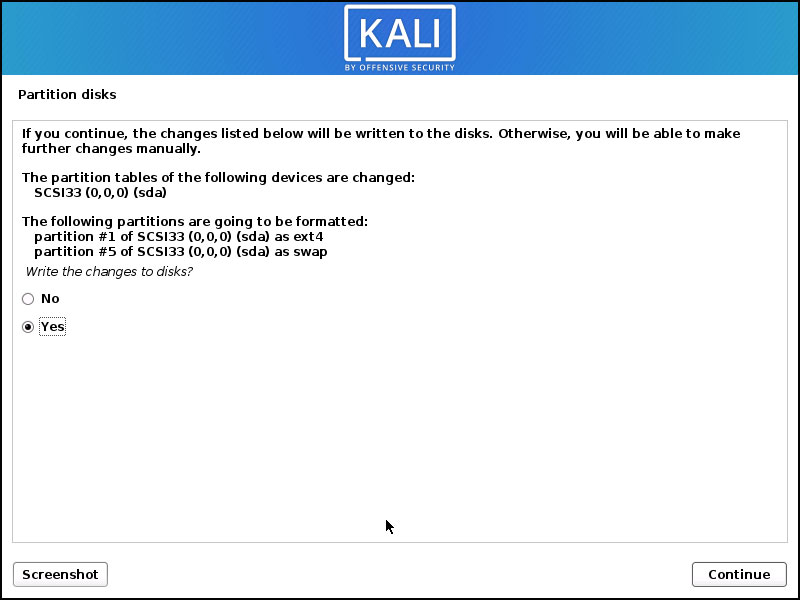 Choose software to install:
Select any option hare you can choose any desktop environment and collection of tools etc. Choose accordingly your internet speed, because all this extra option needs internet to install it so be careful when you select the option, I recommend choosing default options.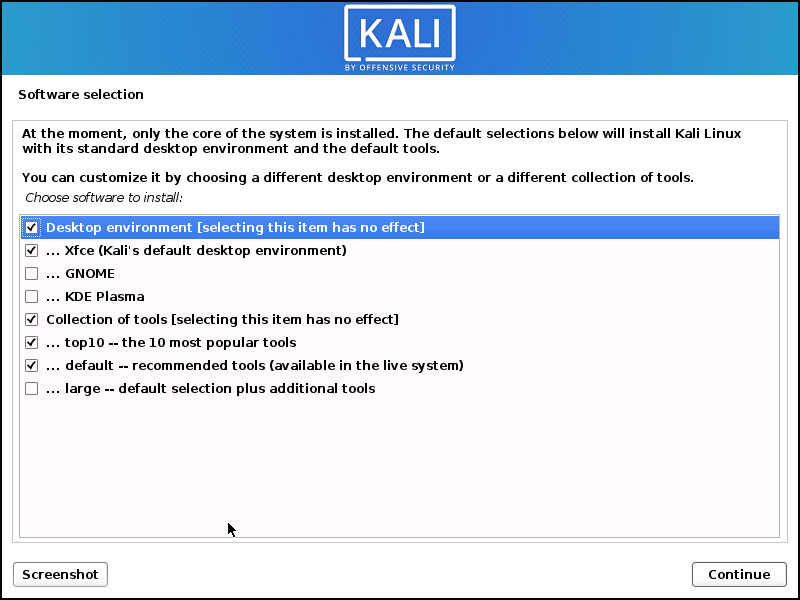 Install the GRUB boot loader to the master boot record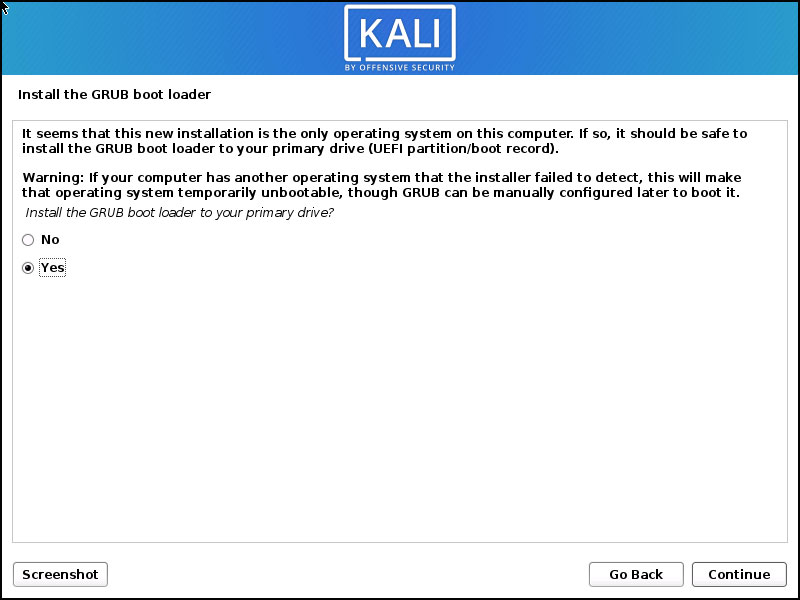 Device for boot loader installation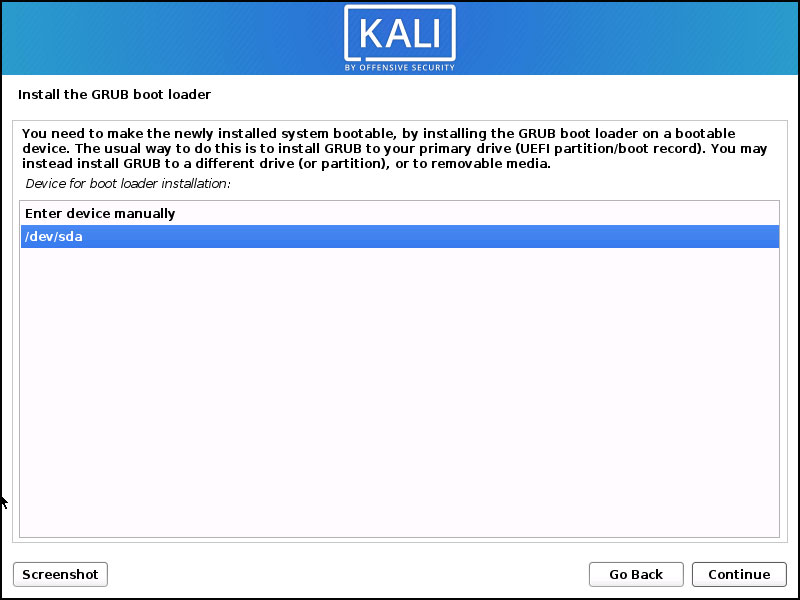 Installation complete
Finally, Installation of Kali Linux 2022.4 is complete, so now time to reboot you virtual machine.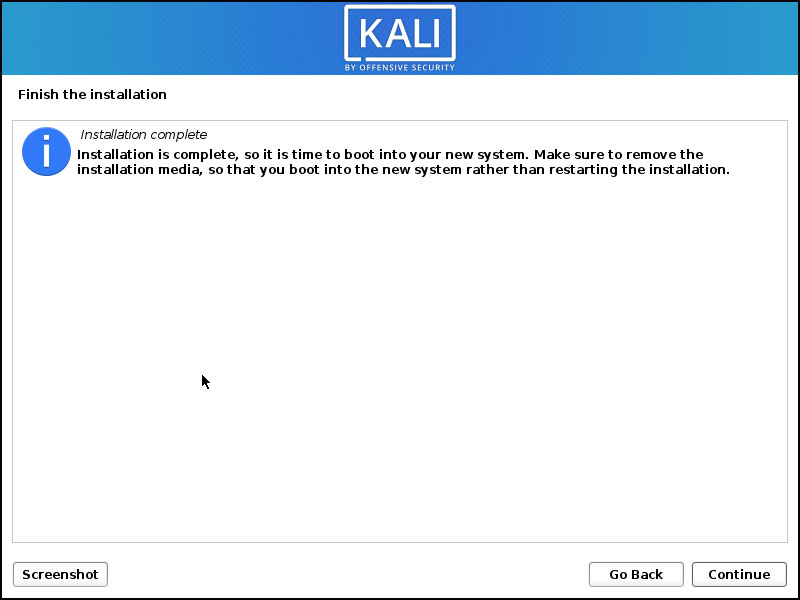 Finally, Kali Linux 2022.4 installation is completed
Video:
You can follow the following video where I will show, How To Install Kali Linux 2022.4 step by step
Conclusion
Kali Linux comes with many pre-installed tools and we have good community to help as well. We can install Kali Linux in VMware or VirtualBox also Good luck!
Important Things To Remember:
The author of this article does not promote any illegal activities It is just for education purpose All the activities provided in this article, YouTube channel, and on the website techdhee.org are only for educational purposes. If you are using and follow this tutorial for any illegal purpose, techdhee.org can not be responsible for your action. My purpose is to educate or share the information who have not, how to secure your self from the Internet, and the world of digital. Also, read the Disclaimer
Finally
Thank you for reading this post and keep connected to TECH DHEE to continue enjoying excellent posts. Share your views about this post in the comment section below. If you still have any queries, throw it in the comment section. If you find this post helpful, don't hesitate to share this post on your social network. It will only take a moment, and also it is quite easy and useful for others.
Related Post