In this article, we are gonna learn how to update and upgrade Kali Linux to the latest version. If you are using the default installation of Kali, you should be checking for new updates from time to time. If you need a new version of a tool or security update, that may speed up your system. Kali is a rolling release, in a year Kali releases its four versions. Which comes with new features and tools. To update Kali Linux, first, we have to check our repository file and file location is /etc/apt/sources.list. The following code should be in the file.
deb http://http.kali.org/kali kali-rolling main contrib non-free




deb-src http://http.kali.org/kali kali-rolling main contrib non-free
Update Kali Linux
Now we have to update our Kali Linux packages index list. Open your favorite terminal and enter the following command:
techdhee@kali:~|⇒ sudo apt update
If you want to display all packages which are scheduled for an update.
techdhee@kali:~|⇒ sudo apt list --upgradable
Now we can upgrade individual packages using sudo apt install PCKAGE_NAME or we can upgrade the whole system using
techdhee@kali:~|⇒ sudo apt full-upgrade -y
All done. Your Kali Linux system is now fully upgraded.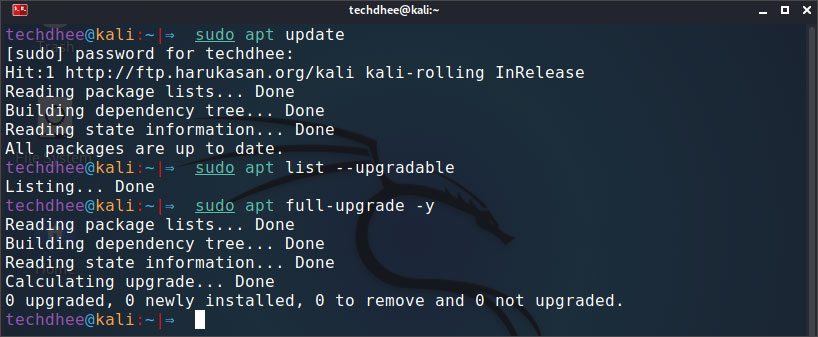 Uninstall No Longer Required Packages
Now after the system upgrades some of the packages may no longer be used, hence any longer required. To remove all no longer required Kali Linux packages run the command
techdhee@kali:~|⇒ sudo apt autoremove

Video
In this video, I will show How to Update Kali Linux into the Latest Release | Kali Linux 2023.3
Important Things To Remember:
The author of this article does not promote any illegal activities It is just for education purpose All the activities provided in this article, YouTube channel, and on the website techdhee.org are only for educational purposes. If you are using and follow this tutorial for any illegal purpose, techdhee.org can not be responsible for your action. My purpose is to educate or share the information who have not, how to secure your self from the Internet, and the world of digital. Also, read the Disclaimer
Finally
Thank you for reading this post and keep connected to TECH DHEE to continue enjoying excellent posts. Share your views about this post in the comment section below. If you still have any queries, throw it in the comment section. If you find this post helpful, don't hesitate to share this post on your social network. It will only take a moment, and also it is quite easy and useful for others.
Related Post