In this, article we are going to learn about Top 10 Kali Linux tools for hacking. This is a list of some of the best hacking tools in Kali Linux 2020.2, security utilities with direct links(like ethical hacking). Where you can learn and play with all these tools in Kali Linux. Top 10 Kali Linux tools for hacking are the following:
Top 10 Kali Linux tools for hacking
1. Nmap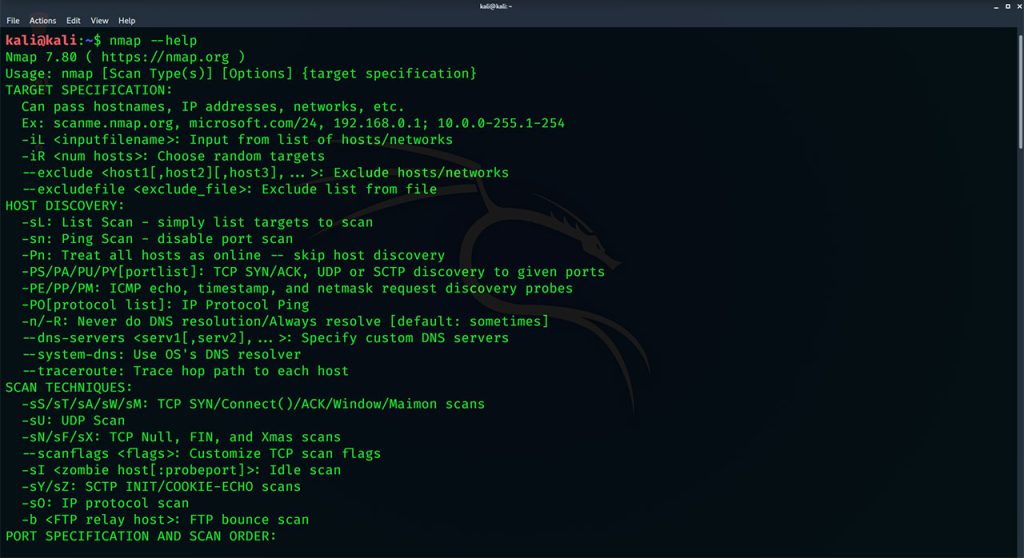 Maybe everyone has heard of this one, Nmap stable version is 7.80.
Nmap ("Network Mapper") is a free and open-source utility for network discovery and monitoring tool. Many systems and network administrators also find it helpful to do your duties in network analysis, managing service improve schedules, and monitoring host or service uptime. Nmap makes use of raw IP packets in novel methods to find out what hosts can be found on the network, what providers (application name and version) these hosts are providing, what operating systems they're running, what type of packet filters/firewalls are in use. It was designed to quickly scan giant networks, however, works high quality towards single hosts. Nmap runs maximum operating systems, and official binary packages available for all operating systems like Linux, Windows, Mac OS X, etc. Using command-line Nmap executable, the Nmap is also available in GUI also known as Zenmap, a versatile data transfer, redirection, and debugging tool, and a packet generation and response analysis tool.
Nmap Get From Here
2. John the Ripper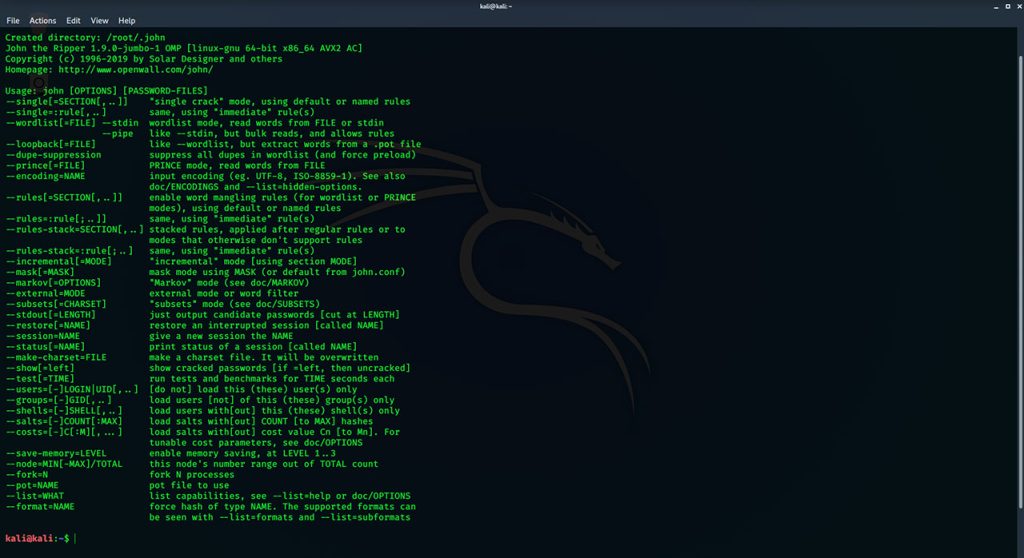 John the Ripper is a quick password cracker, and it is available for all types of operating systems like Unix, macOS, Windows, DOS, BSDOS, and OpenVMS. Traditionally, its main function is to detect weak Unix passwords. Nowadays, in addition to many Unix crypt(3) password hash types, supported in "-jumbo" versions are a whole bunch of extra hashes and ciphers. John the Ripper is a free and open-source password cracking software tool. Initially developed for the Unix operating system. John the Ripper is a part of many Linux distributions some of the famous distro like Debian GNU/Linux, Fedora Linux, Mandriva Linux, SUSE Linux, etc.
John the Ripper Get From Here
3. Nikto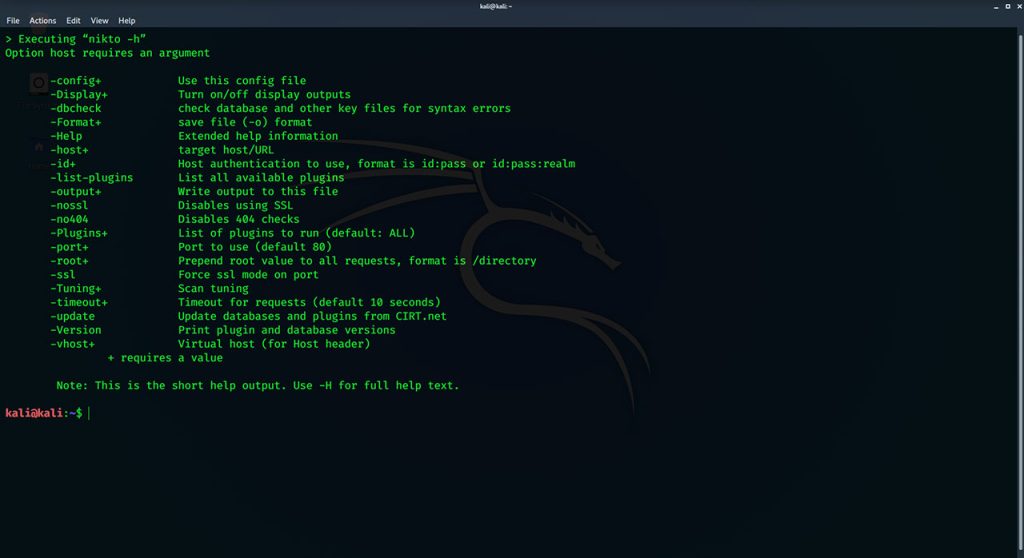 Nikto is a free Open Source web server scanner which performs complete tests against web servers for multiple items, including over 6700 potentially harmful files/programs, checks for outdated versions of over 1250 servers, and version particular problems on over 270 servers. It additionally checks for server configuration items such as the presence of a number of index records data, HTTP server choices, and can try to identify installed web servers and software program. Scan items and plugins are steadily up to date and could be mechanically up to date. Nikto just isn't designed as a stealthy tool. It should take a look at an internet server within the quickest time possible, and is apparent in log files or to an IPS/IDS.
4. Wireshark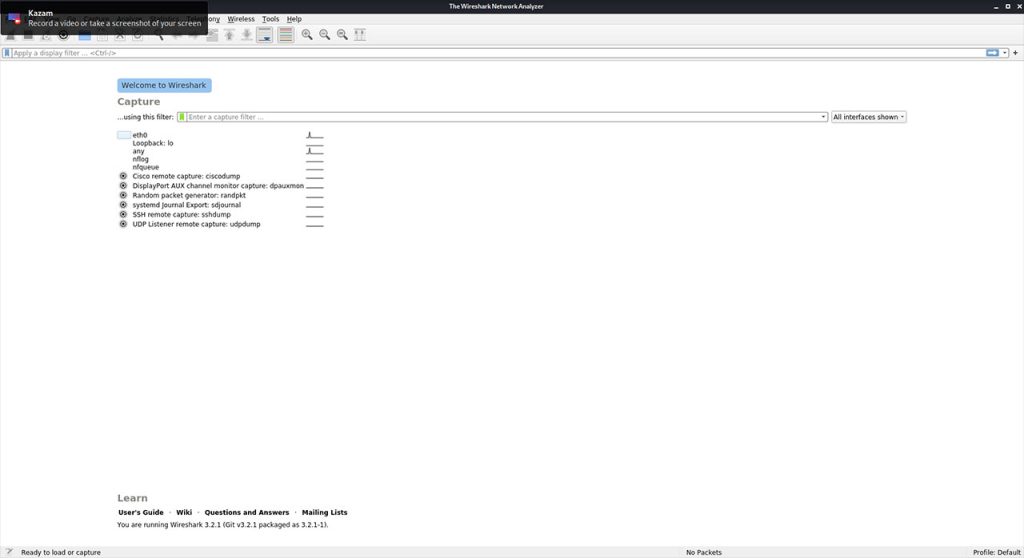 Wireshark is a GTK+-based network protocol analyzer or sniffer, that permits you to seize and interactively browse the contents of network frames. The objective of the project is to create a commercial-quality analyzer for Unix and to provide Wireshark options that can be lacking from closed-source sniffers.
Works great on each Linux and Windows (with a GUI), simple to use, and may reconstruct TCP/IP Streams!
5. Lynis
Lynis is an open-source security auditing tool. Its main goal is to audit and harden Unix and Linux/Unix based systems. It scans the system by performing many security management checks. Examples include trying to find installed software or program and decide possible configuration flaws.
Many tests are a part of common safety guidelines and requirements, with on high further safety checks. After the scan, a report will probably be displayed with all discovered findings. To provide you with initial guidance.
6. WPScan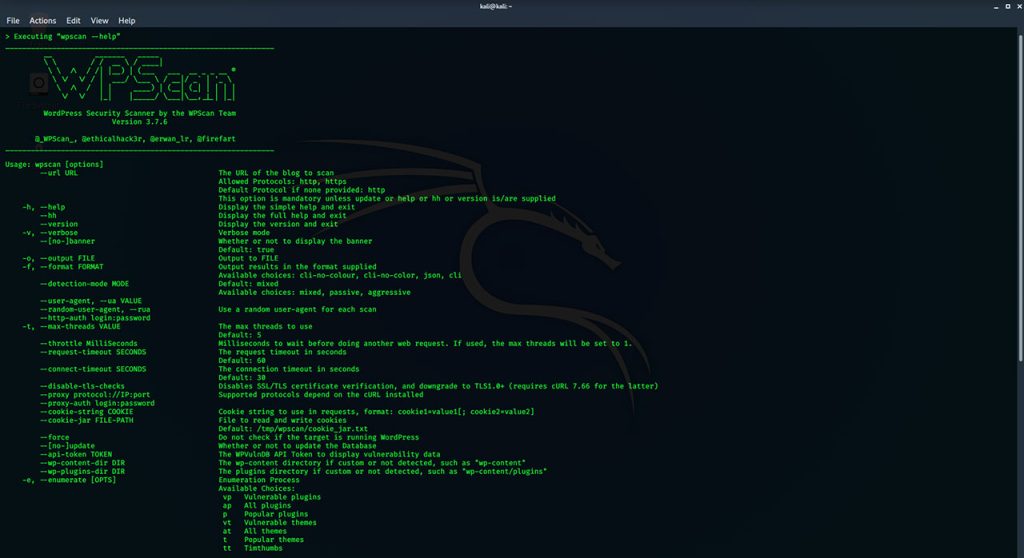 WPScan is a free but not open-source, for non-commercial use, black box WordPress vulnerability scanner written for security professionals web blog maintainers to examine the protection of their web sites. It is pre-installed in Kali Linux. WordPress is probably going one of many best open source CMS and this is the best free WordPress security auditing system. If you wish to know whether or not a WordPress web blog is vulnerable in some way, WPScan is your buddy. As well as, it additionally provides you details of the plugins active. Of course, a well-secured web blog may not provide you with a lot of particulars details, however, it's still the most effective software for WordPress security scans to seek out potential vulnerabilities.
7. Aircrack-ng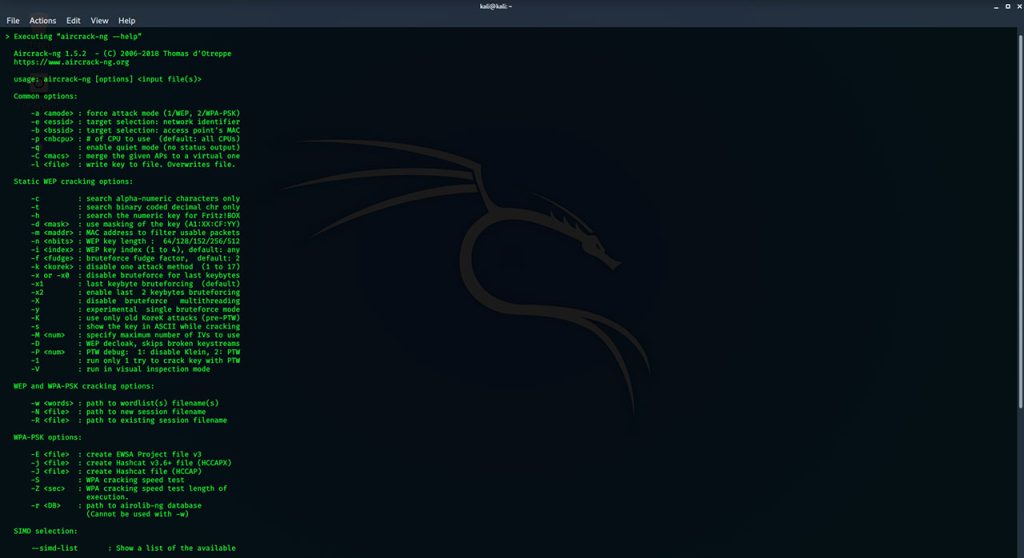 Aircrack-ng is a network software suite consisting of a detector, packet sniffer, WEP, and WPA/WPA2-PSK cracker and analysis tool for 802.11 wi-fi LANs. It really works with any wi-fi network interface controller whose driver helps raw monitoring mode and might sniff 802.11a, 802.11b, and 802.11g traffic. Aircrack-ng is a group of instruments to assess WiFi network security. It isn't simply limited to monitor and get insights – however, it additionally contains the ability to compromise a network (WEP, WPA 1, and WPA 2).
For those who forgot the password of your personal WiFi community – you may attempt utilizing this to regain access. It additionally contains a wide range of wi-fi attacks with which you can target/monitor a WiFi network to boost its safety.
Monitoring: Packet capture and export of information to textual content records data for additional processing by third-party tools
Attacking: Replay attacks, deauthentication, fake access points, and others via packet injection
Testing: Checking WiFi internal or external cards and driver capabilities (capture and injection)
Cracking: WEP and WPA PSK like WPA 1 and WPA 2.
A lot of GUIs have taken the benefit of this function. It really works primarily Linux but additionally Windows, OS X, FreeBSD, OpenBSD, NetBSD, in addition to Solaris and even eComStation 2.
The Aircrack-n Get From Here
8. Hydra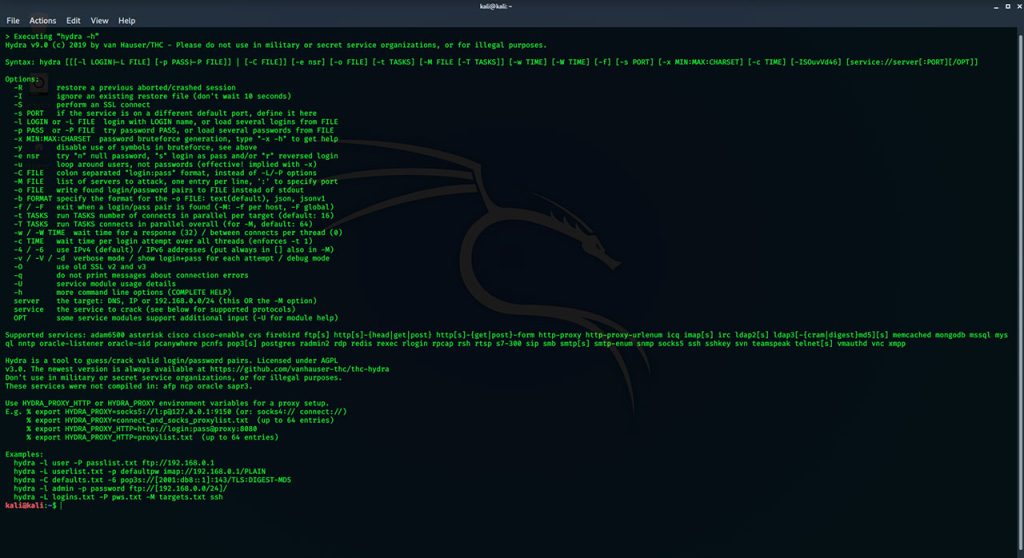 Number one of the biggest security holes is passwords, as each password security study shows. This software is proof of concept code, to give researchers and safety consultants the likelihood to indicate how straightforward it might be to gain unauthorized access from remote to a system. There are already a number of login hacker tools accessible, however, none do both support more than one protocol to attack or support parallelized connections.
It supports maximum all operating systems like Linux, Windows/Cygwin, Solaris, FreeBSD/OpenBSD, QNX (Blackberry 10), and macOS.
At the moment this tool supports the following protocols: Asterisk, Cisco AAA, Cisco auth, Cisco enable, CVS, Firebird, FTP, Telnet, VMware-Auth, VNC XMPP, etc.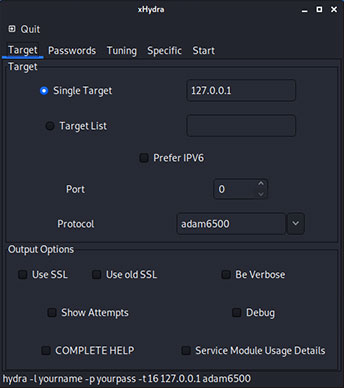 9. Metasploit Framework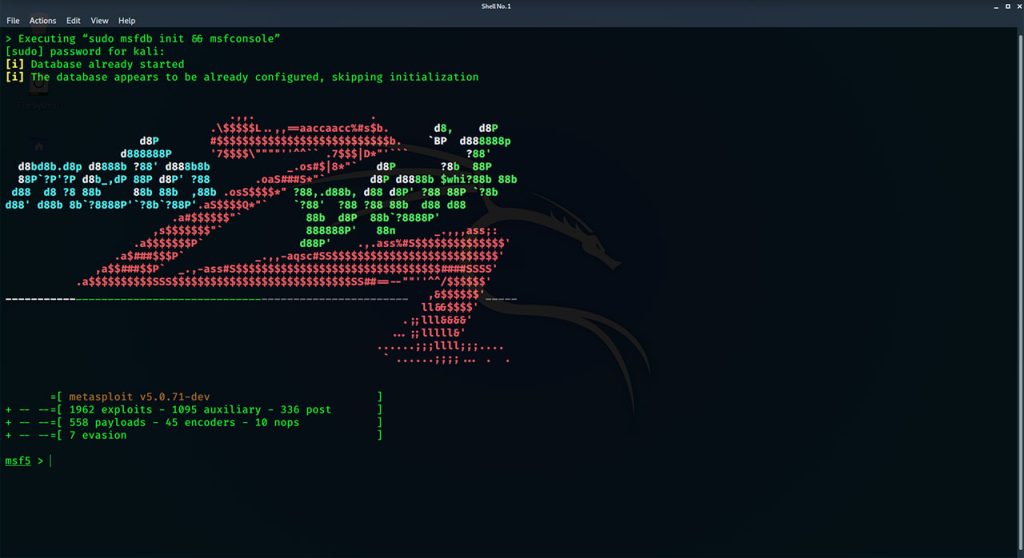 The metasploit framework is most used tool in Kali Linux. The Metasploit Project is a computer security project that gives details about security vulnerabilities and aids in penetration testing and IDS signature improvement. It's owned by Boston, Massachusetts-based security firm Rapid7. Metasploit Framework is essentially the most used penetration testing framework. It offers two editions – one (open source) and the second is the professional model to it. With this tool, you'll be able to confirm vulnerabilities, test known exploits, and perform a complete security assessment.
After all, the free version received has all the options, so in case you are into serious stuff, it's best to compare the editions right here.
Free Metasploit Framework Get From Here
Pro Metasploit Framework Get From Here
10. Social Engineering Toolkit (SET)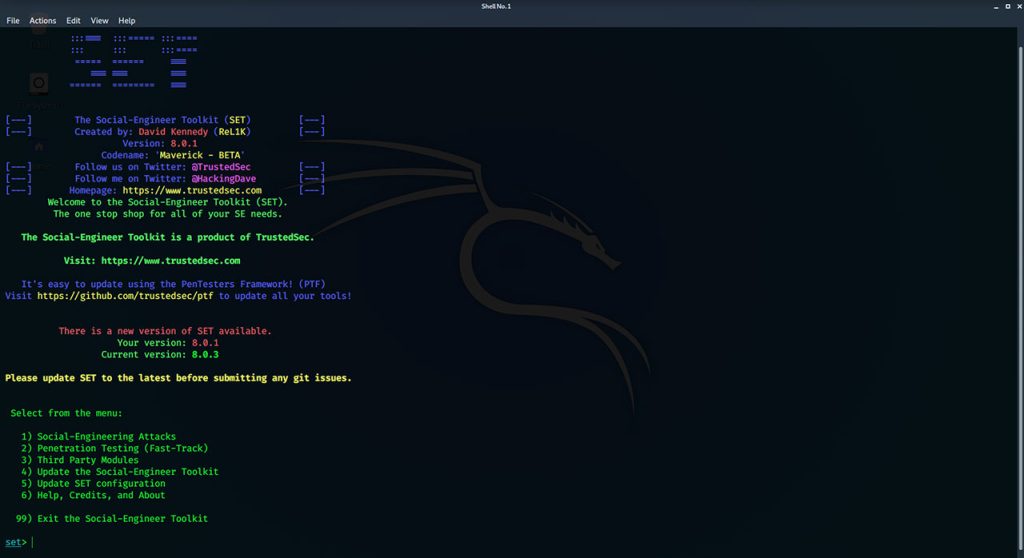 The Social-Engineer Toolkit is an open-source penetration testing framework designed for social engineering. SET has plenty of customized attack vectors that can help you make a believable attack shortly. SET is a product of TrustedSec an information security consulting agency. The Social-Engineer Toolkit (SET) was created and written by Dave Kennedy, the founding father of TrustedSec. It's an open-source and Python-based tool for penetration testing around Social-Engineering. It has been introduced at large-scale conferences including Blackhat, DerbyCon, Defcon, and ShmooCon. With over two million downloads, it's usual for social-engineering penetration tests and supported closely inside the security community.
Free Social Engineering Toolkit (SET) Get From Here
Pro-Social Engineering Toolkit (SET) Get From Here
Conclusions
This is the top 10 Kali Linux tools for hacking in my opinion. There's actually a lot of tools that come bundled with Kali Linux. Do refer to Kali Linux's official tool listing page to find them all. You will find completely free and open-source while some to be proprietary solutions (yet free). However, for commercial purpose, you should always opt for the premium editions.
Important Things To Remember:
The author of this article does not promote any illegal activities It is just for education purpose All the activities provided in this article, YouTube channel, and on the website techdhee.org are only for educational purposes. If you are using and follow this tutorial for any illegal purpose, techdhee.org can not be responsible for your action. My purpose is to educate or share the information who have not, how to secure your self from the Internet, and the world of digital. Also, read the Disclaimer
Finally
Thank you for reading this post and keep connected to TECH DHEE to continue enjoying excellent posts. Share your views about this post in the comment section below. If you still have any queries, throw it in the comment section. If you find this post helpful, don't hesitate to share this post on your social network. It will only take a moment, and also it is quite easy and useful for others.