In this article, we are going to learn about how to Install VMware Tools on Arch Linux. It's very painful to install VMware tools on Arch Linux, but this guide will make your life easier. You get the official way to install the VMware tools but sometimes tools do not work after installing the tool in Arch Linux. So you have to install the VMware tool manually. There are many ways to install the VMware tool. I am going with this method which is 100% working on arch Linux. You will use this tool, Thanks to rasa has already provided us with a simple way to install the tool.
Prerequisites
Git install in your arch system
User with sudo privileges
An Internet connection
Download VMware Tools
Download and install the git File using the following commands in the terminal:
$ git clone https://github.com/rasa/vmware-tools-patches.git
$ cd vmware-tools-patches
$ ls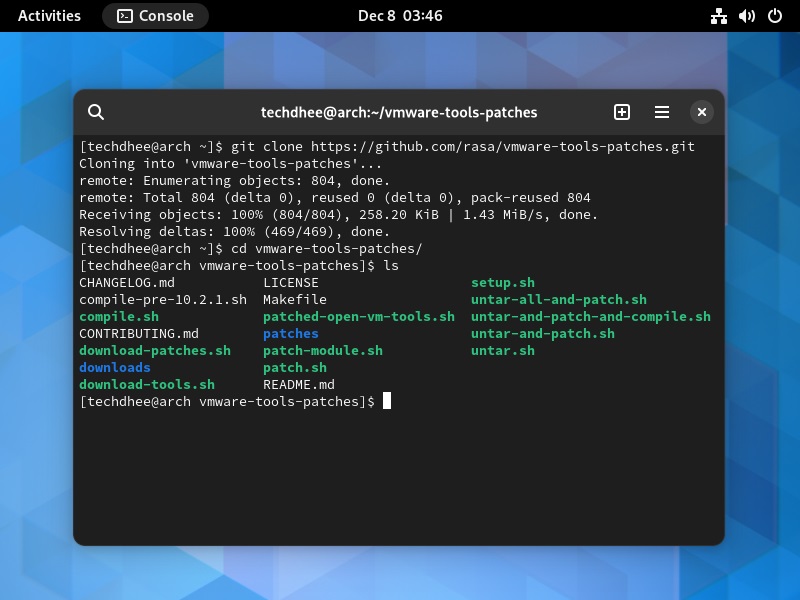 Install VMware Tools
$ ./patched-open-vm-tools.sh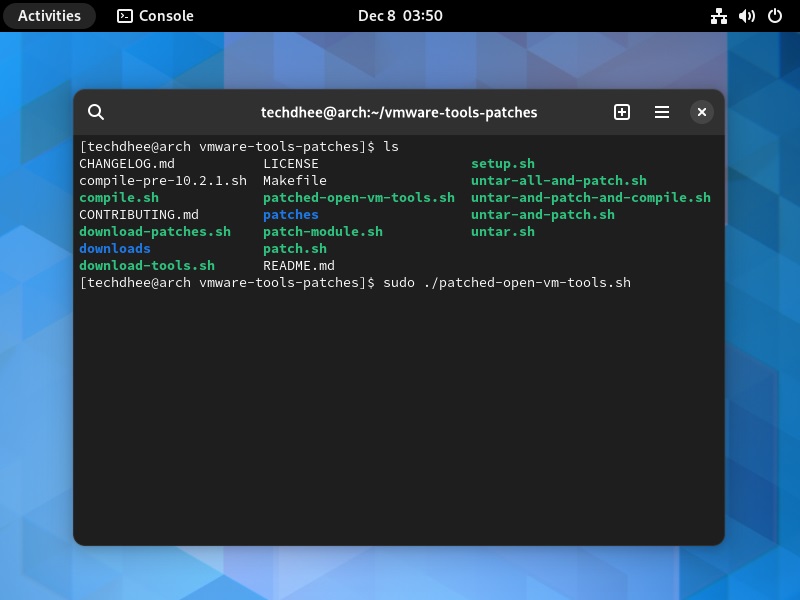 After running above command you have to reboot your arch Linux system.
Conclusion
Arch Linux is the most popular Linux distribution among hardcore Linux users. With this step-by-step tutorial, you have installed the VMware tools on arch Linux in your system. Next, you may want to look into our other guides for installing software on Arch Linux or learning how to use some of its most popular commands.
Important Things To Remember:
The author of this article does not promote any illegal activities It is just for educational purposes All the activities provided in this article, YouTube channel, and on the website, techdhee.org are only for educational purposes. If you are using and following this tutorial for any illegal purpose, techdhee.org can not be responsible for your action. My purpose is to educate or share information with those who have not, how to secure themselves from the Internet, and the world of digital. Also, read the Disclaimer
Finally
Thank you for reading this post and keep connected to TECH DHEE to continue enjoying excellent posts. Share your views about this post in the comment section below. If you still have any queries, throw them in the comment section. If you find this post helpful, don't hesitate to share this post on your social network. It will only take a moment, and also it is quite easy and useful for others.